BLACK TIGER BHPH GPS SERVICE IS LIKE NO OTHER!
A True Game Changer With No Monthly
Service Fees or Contracts Ever.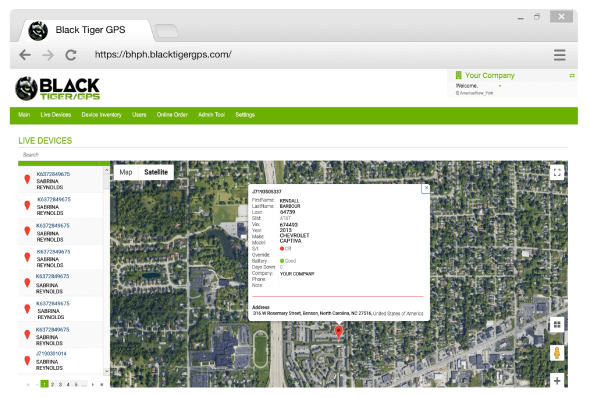 That's right! You only pay for service when you need to repo a vehicle!
The Buy Here Pay Here (BHPH) market can be a jungle at times collecting payments and recovering vehicles. Luckily there's a new protector of that jungle, BLACK TIGER GPS! As the industry's first and only 'pay when you need it' service Black Tiger is changing the way vehicle tracking and recovery is done within the BHPH jungle.
No more negotiating price, airtime service plans, locates, or other costly terms.
BLACK TIGER GPS STAYS READY TO PREY ON THOSE WHO FAIL TO MAKE THEIR PAYMENTS!
Perform Swift & Successful Repossessions
Titanic Impound Lot Database
Streamline Your Collection Efforts
Elevate Your Lot Management
Empowering Starter Interrupt Ability
SHOP NOW
DOMINATE YOUR AUTO - LENDING COLLATERAL!
Nothing To Recover - Nothing To Pay Only Pay When You Need To Repo.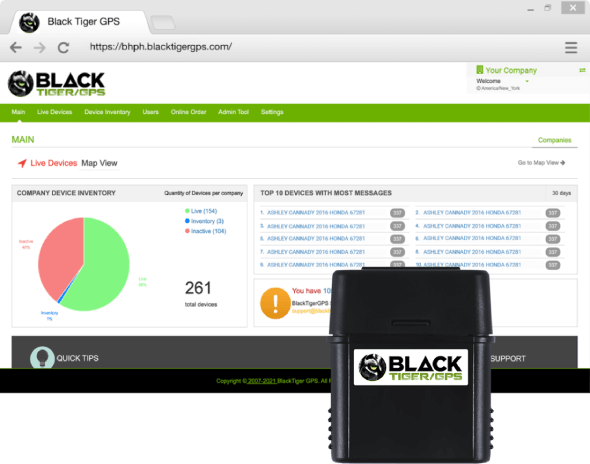 NOTHING TO RECOVER - NOTHING TO PAY. ONLY PAY WHEN YOU NEED TO RECOVER.
Our BHPH GPS tracking devices come standard with activation and 30 days service. This provides you with unlimited access to our insanely accurate, high-end 'locate-on-demand' vehicle recovery feature. This feature alone will significantly reduce the man-hours spent on vehicle recovery.
At the end of your initial 30 days, Black Tiger will sleep and stop transmitting data until you need him to go on the hunt for a vehicle again!
Black Tiger 'Repo Mode' is JUST $2.50 and gives you 30 days of service! Black Tiger GPS is saving you money, simplifying recovery efforts and protecting the BHPH Jungle
BHPH VEHICLE GPS TRACKING FAQ'S
How does the Black Tiger GPS BHPH Service work?
No ongoing or monthly service commitments. JUST $2.50 when its time for Black Tiger to go into 'Repo Mode' for up to 30 days!
After your intial 30 days of service your device remains alive and on while connected to power, yet it will not transmit data unless you need to go into 'Repo Mode' to recover a vehicle.
What network do your devices work on and what generation are they?
Our devices are certified 4G LTE-M devices on the AT&T network. Our devices are clearly marked for our network partners we recommend you have any other GPS Device provider submit in writing which networks they utilize.
Will you be going to a 5G network?
The 5G network is still several years away-we recommend you follow network build directly from the carrier such as AT&T. If you are being told by a GPS provider that they are utilizing 5G or will be in the near future, you are most likely being misled!
Is your application compliant with UCC law and Personal Privacy laws?
Yes, our application was designed to meet UCC law and Personal Privacy laws. We recommend you consult with your legal counsel to ensure that if you are utilizing other GPS platforms to protect collateral that their platforms are compliant and do not allow for real-time tracking at high frequency while loan terms are in good status.
Does my device provide a daily heartbeat?
Yes, when the device is within service it will provide a 25hr heartbeat. In the event you are not paying for use then the device will remain asleep until you pay the $2.50 for 30-day service.
How long do I have access to my device after paying my $2.50?
You will receive 30 days of service with unlimited Locate On Demand capability.
How difficult is it to install the vehicle tracking device?
The device is quite simple to install. We provide wiring instructions for all three of our installation options depending upon which cables you have chosen. Our small device design makes installation time efficient and easy to conceal.